QuickEye Estimator Help Topic:
Internet Project Download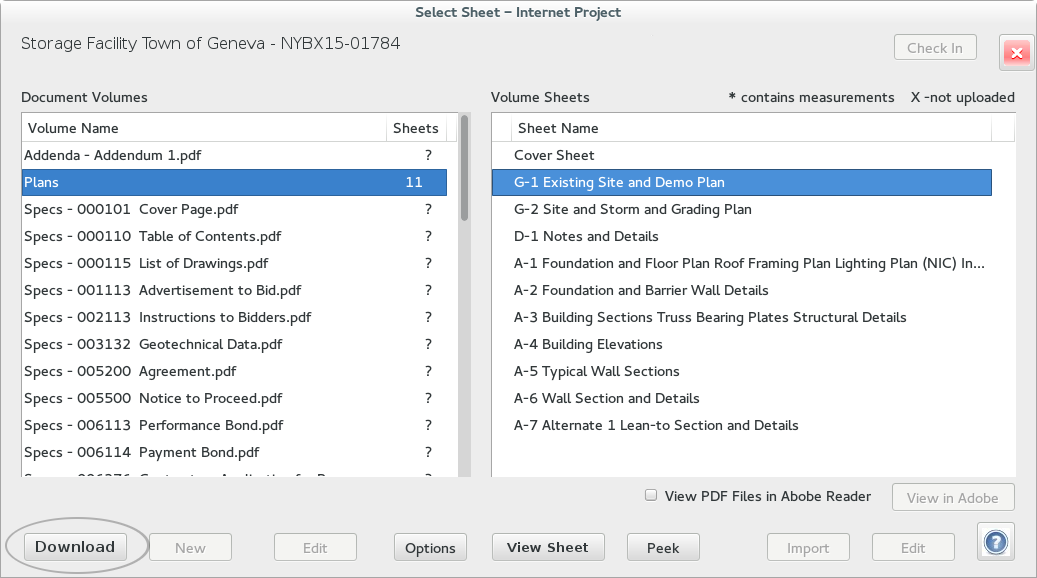 Dialog purpose:
Download Project Documents from an Online Planroom into a QuickEye Project
Quick Tips:
Export out of QuickEye to a folder of your choice
Download to a QuickEye Project
Create new Project for files
Select Files to download
Detailed Instructions:
QuickEye is an integrated viewer in over 75 Online Planrooms. When you are a member of one of these Planrooms and you press the View with QuickEye button to launch QuickEye and view the documents, you are viewing a remote "Internet Project". There are two ways to save files from an Interent Project. Exporting them to a folder of your choice on your computer, or downloading them into a QuickEye Project. You may open a drawing sheet and then press the export button on the toolbar (third from the right), then click on the Bare Drawings tab, to export files. You may also view a Specification PDF page and then press export, to select one or more spec PDF files to export. Downloading into a QuickEye Project is accomplished with the Download button on the bottom left corner of the Select Sheet dialog (highlighted above). The first time you download files from a project, the New Project dialog will open. This will create a QuickEye Project to contain the document files. Later you can select this project from to
Select Project
dialog.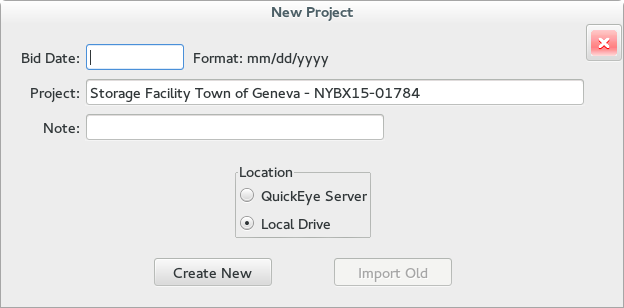 The Bid Date and Note are optional. If you fill in the Bid Date, it must be a valid date in the format shown. Setting the location to QuickEye Server makes the project portable (so you can access it from any computer) and enables the sharing features.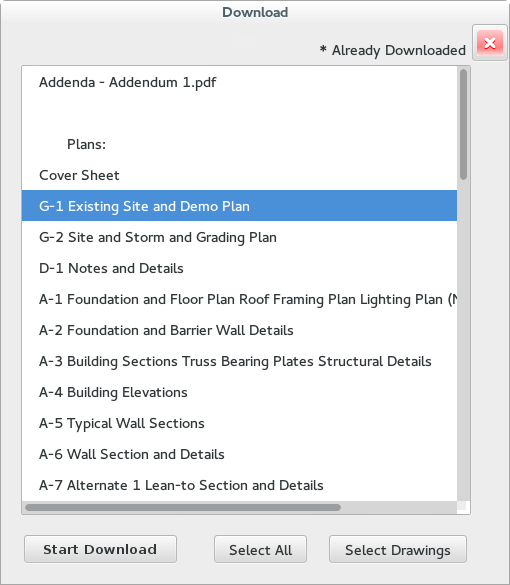 After creating the project, you will see the Download dialog. Pressing Select Drawings will grab all the files which are not PDFs. You may also press Select All or hand pick the files you want. Then press Start Download to begin. You will see the display change as the download proceeds.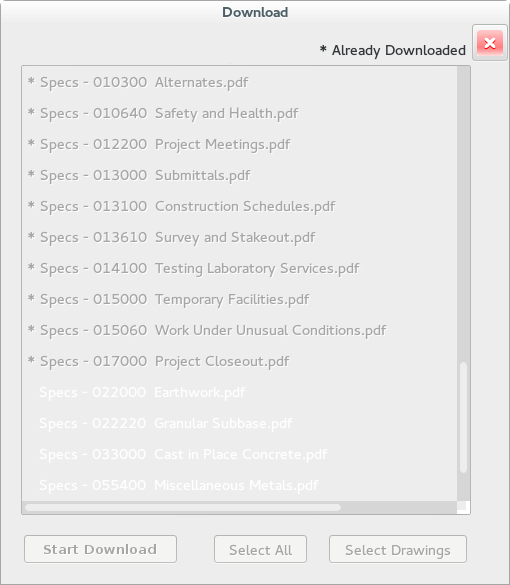 After the download is complete, you are returned to the Select Sheet dialog with the downloaded project opened. The downloaded Volumes and Sheets are displayed and the Edit controls are enabled since you are no longer viewing an Internet Project, which are read-only. Now the documents are in a QuickEye project and you may view, print and measure over them. You can also use any and all of QuickEye's document management and sharing features. See
Select Sheet
for editing features, and
Item Creator
for measuring details.